Country Introduction USA

The United States of America (USA or U.S.A.), commonly referred to as the United States (US or U.S.), America, or simply the States, is a federal republic consisting of 50 states, 16 territories, and a federal district. The 48 contiguous states and the federal district of Washington, D.C. are in central North America between Canada and Mexico. The state of Alaska is the northwestern part of North America, west of Canada and east of Russia, which is across the Bering Strait in Asia, and the state of Hawaii is anarchipelago in the mid-North Pacific. The country also has five populated and nine unpopulated territories in the Pacific and theCaribbean.

The United States is the world's third or fourth largest nation by total area (land and water), ranking behind Russia and Canada and just above or below China. The ranking varies depending on how two territories disputed by China and India are counted and how the total size of the United States is measured: calculations range from 3,676,486 square miles (9,522,055 km2) to 3,717,813 square miles (9,629,091 km2) to 3,794,101 square miles (9,826,676 km2). Measured by only land area, the United States is third in size behind Russia and China, just ahead of Canada.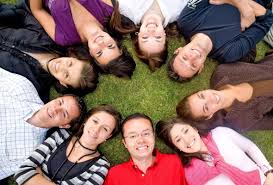 Economy
The United States has a capitalist mixed economy, which is fueled by abundant natural resources, a well-developed infrastructure, and high productivity.] According to the International Monetary Fund, the U.S. GDP of $15.1 trillion constitutes 22% of the gross world product at market exchange rates and over 19% of the gross world product atpurchasing power parity (PPP). Though larger than any other nations, its national GDP was about 5% smaller at PPP in 2011 than the European Union's, whose population is around 62% higher. The country ranks ninth in the world innominal GDP per capita and sixth in GDP per capita at PPP. The U.S. dollar is the world's primary reserve currency.