Country Introduction Ireland

Politically, 
Ireland is divided
 between the 
Republic of Ireland
, which covers five-sixths of the island, and 
Northern Ireland
, a part of the
United Kingdom
, which covers the remaining area and is located in the north-east of the island. The population of Ireland is approximately 6.4 million. Just under 4.6 million live in the Republic of Ireland and just over 1.8 million live in Northern Ireland.
The island's 
geography
 comprises relatively low-lying mountains surrounding a central plain, with several navigable rivers extending inland. The island has lush vegetation, a product of its mild but changeable oceanic climate, which avoidsextremes in temperature. Thick woodlands covered the island until medieval times. Today, the amount of land that is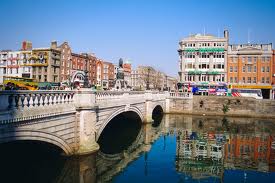 forested in Ireland is just one third of the European average of 35%.There are twenty-six extant mammal species native to Ireland.
Irish culture
 has had a significant influence on other cultures, especially in the fields of 
literature
 and, to a lesser degree, science and education. Alongside mainstream 
Western culture
, a strong indigenous culture exists, as expressed for example through 
Gaelic games
, 
Irish music
, and the 
Irish language
. The culture of the island has also many features shared with 
Great Britain
, including the
English language
, and sports such as 
association
football
, 
rugby
, 
horse racing
 and 
golf
.